Due to the increasing demand for satellite connectivity in the IoT market, hiSky and Avanti Communications have decided to expand their cooperation, powering hiSky's Agile IoT network with Avanti's HYLAS HTS Ka-band beams, enabling affordable IoT satellite services across the British Isles. 
Tel Aviv, September 6, 2021 – The growth in technology across diverse global markets is rapidly changing the methodologies used for managing devices ('things'). These devices are usually embedded with sensors or chips for the purpose of their operation and, in remote locations, demand efficient, reliable, and mainly affordable connectivity when managing Internet tools (IoT – Internet of Things). This trend of Internet managed devices has led to a growing demand for satellite communications for varied use-cases. 
On the back of this evolving market, hiSky Ltd., a developer and service provider of an affordable satellite agile IoT network, has partnered with Avanti Communications ("Avanti"), the leading provider of high throughput satellite capacity across EMEA and operator of HYLAS satellites fleet, to expand its IoT service over Africa, the Middle East and into UK and Scotland.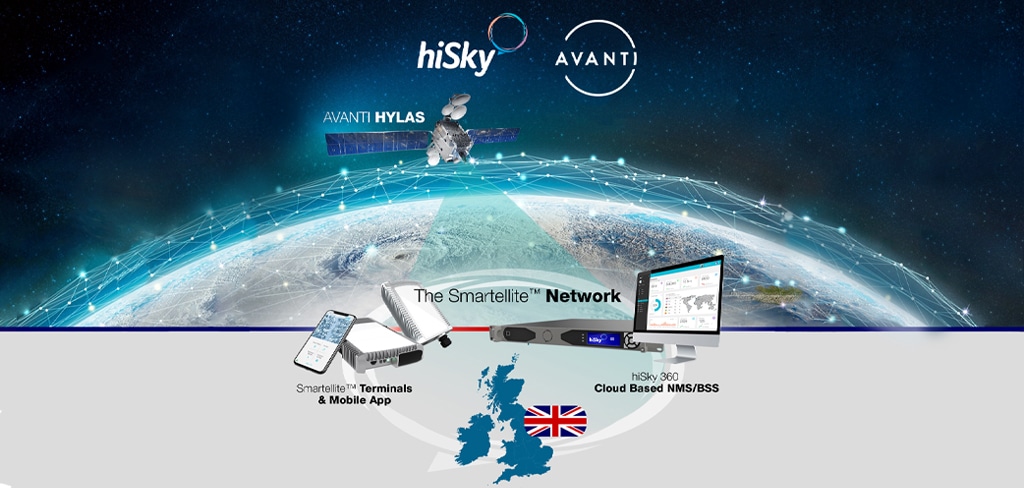 The hiSky's Smartellite™ IoT network comprises of satellite terminals, hub base stations and a cloud base NMS (network management system) that can be deployed as a 'network within a network' in any existing Ka or Ku GEO satellite ecosystem. 
By deploying Avanti's HYLAS HTS Ka-band beams over UK and Scotland, both companies will provide IoT satellite services for partners and prospects in fleet management, fisheries, asset management, aggrotech and more, as a seamless, and complementary service for cellular coverage. 
"Collaborating with Avanti has allowed hiSky to push into new regions and markets within the United Kingdom. hiSky's satellite services provide complementary solutions for places with lack of cellular coverage in the most efficient and advanced way. From day one, our system has been designed according to the IoT market requirements, and therefore enables us to offer our customers the most affordable monthly bundles in the satellite market." says Nitzan Raz, CBO of hiSky. 
"We are very much looking forward to working with our local partners in the region and are already seeing opportunities in areas that, before this partnership, were unavailable at the service level and price point that we can provide." 
Libby Barr, Chief Operating Officer at Avanti, commented: "Our core belief is that everyone has the potential to achieve their ambitions, and this partnership with hiSky will bring endless opportunities to businesses operating in remote areas to achieve their goals. Together, we will provide the best quality service when and where businesses across the UK and Scotland need it most, and empower them to match the evolving technological landscape."