The Story of HYLAS 4
French Guiana, 5 April 2018. 6:34pm local time. Ariane 5 blasts off from Kourou Space Centre, carrying the latest addition to Avanti's fleet of Ka-band satellites.
As the rocket soars into the sunset, we eagerly await the separation of HYLAS 4.
Just 34 minutes later she is successfully deployed over the Indian Ocean. That's 64 spot beams, 4 steerable beams and 32 gigahertz of capacity heading for geostationary orbit 36,000 km above the earth.
Mission success.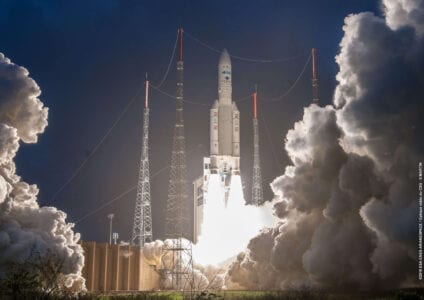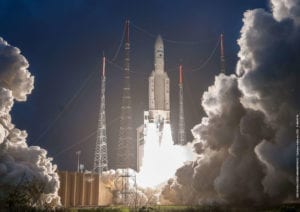 A major milestone for Avanti
It's fair to say the launch of HYLAS 4 is a major milestone for us. Not only does it double the capacity of the existing Avanti fleet, but it represents a significant investment that feeds into the profound change to broadband communications underway in Africa.
More than 30 countries in sub-Saharan Africa will benefit from a satellite service that reaches to all corners and has the potential to connect people and businesses across the continent.
From delivering high-speed broadband for home-users, SMEs, schools, healthcare institutions enterprises and governments, to delivering network extension for mobile network operators, HYLAS 4 is a game changer for digital inclusion and growing business.
But how will the satellite benefit communities on the ground?
Growing communications across Africa.
We're committed to providing high quality, low-cost broadband for African communities who can't connect to the internet through terrestrial means. The launch of HYLAS 2 in 2012 saw us working with key partners to deploy our broadband services in Eastern and Southern Africa.
But HYLAS 4 extends Avanti's reach significantly. Our new Ka-band satellite allows us to deliver high-speed connectivity to countries in West and Central Africa for the first time. It completes our sub-Saharan coverage.
"I applaud this great milestone to grow communications across Africa. HYLAS 4 will promote digital inclusion and will ensure the availability of broadband in West Africa with no limitations, providing connectivity even in the most remote and rural areas."
Jane Egerton-Idehen, Regional Sales Manager, West Africa
Our African expansion is underpinned by our commitment to enabling quality connectivity across Sub-Saharan Africa. To date, Avanti has invested over USD$897 million in Sub-Saharan Africa.
We believe in regional expertise and local presence. That's the reason why we've recently launched our operation hub in South Africa. We also have offices in Kenya, Tanzania and Nigeria.
"We are looking to create more employment opportunities in the space, ICT, engineering and communications sectors.""
Christian Georgeson, Avanti Chief Marketing Officer
Highly flexible capacity in EMEA (and beyond)
What about the other regions and sectors served by HYLAS 4?
The satellite payload consists of 64 spot beams, which enlarge our footprint in Africa as well as complementing our existing coverage of Europe and The Middle East.
HYLAS 4 uses the latest high throughput technology to provide Ka-band capacity across EMEA, meeting the needs of Internet Service providers, Mobile Network Operators, governments, enterprise and other satellite operators. More specifically, it provides:
Satellite backhaul services for Mobile Network Operators
Wholesale broadband for Internet Service Providers (ISPs)
Connectivity for governments (civil and defence)
High-speed satellite broadband services for the enterprise market
Infill capacity for satellite operators
Additionally, the satellite has four independent steerable beams covering markets in Africa, Europe and even Latin America – providing highly flexible capacity wherever it's needed.
How it's all possible – the Ka-band advantage
Like the other satellites in our fleet, HYLAS 4 uses Ka-band technology for high throughput and greater efficiencies.
Ka-band is designed to deliver high-speed communications at a significantly lower cost than traditional Ku-band capacity.
These efficiencies are made possible by Ka-band's smaller, more focussed beams. HYLAS 4 uses 64 of these spot beams to generate a much higher throughput with the same amount of bandwidth. As a result, costs are driven down for users and more spectrum is made available.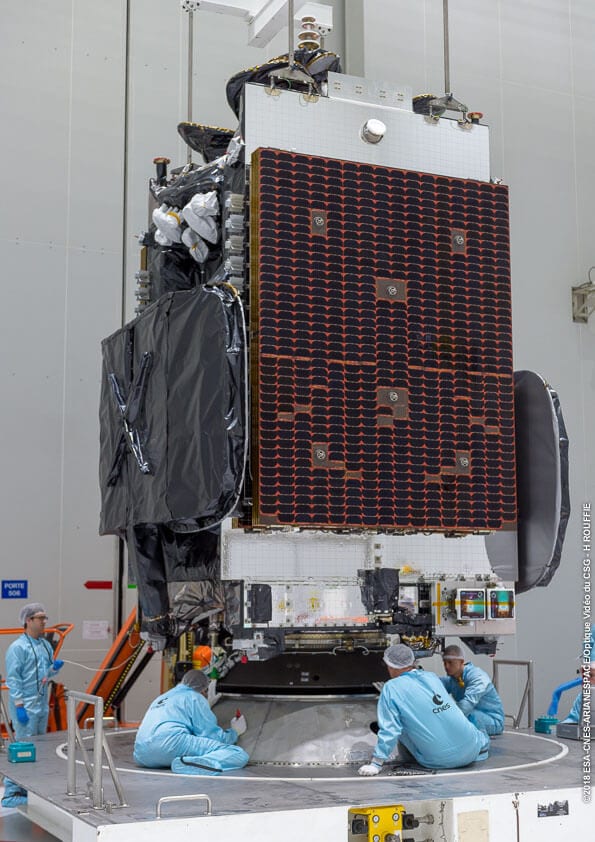 Where there's communication, there's growth
HYLAS 4 is our most ambitious satellite mission to date, helping us realise the Avanti mission of connecting people, countries and continents.
From empowering African schools to improving mobile networks across EMEA, the satellite is a liberating force in global communications. And we hope you're as excited about the possibilities as we are.
But it's only the beginning of the story for HYLAS 4. The true impact of this high-performance satellite will be the growth it drives and opportunities it creates in the coming years.
When we consider that increasing broadband access by 10 per cent can enable GDP to grow by 1.4 per cent, the potential long-term impact is huge.
Stay tuned to the latest HYLAS 4 updates from our Knowledge Centre